TCRG Partners with Rolla Skate Club to lead Mix Tapes Training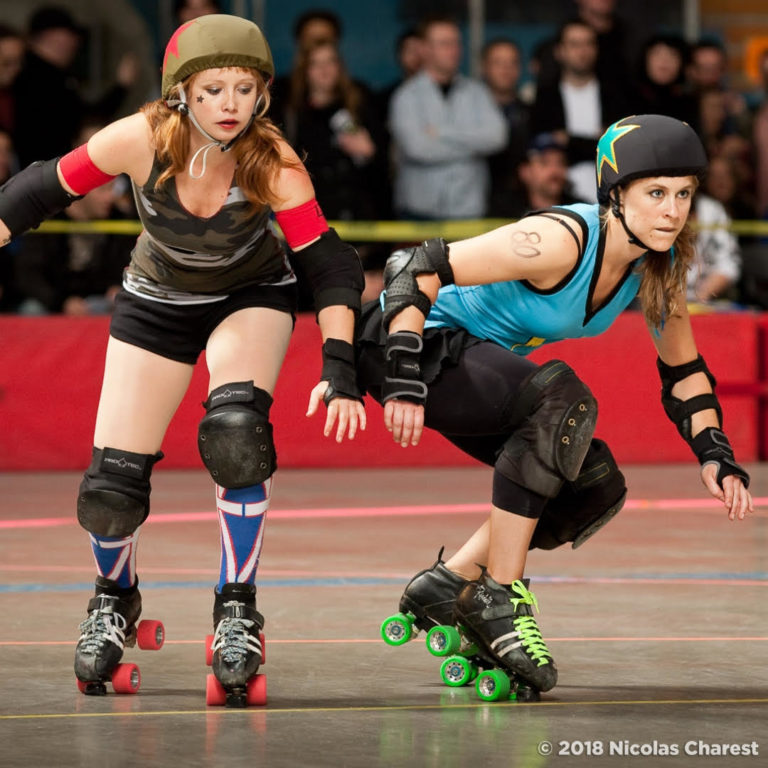 Terminal City has teamed up with Rolla Skate Club to offer new skater training as of November 2018! Are you intrigued by roller derby but have never had wheels on your feet? Or maybe contact sports aren't your thing, but you'd love to strap on a pair of "old-school" skates and learn some moves? Looking to improve your skills in order to be drafted to a team, or just looking for some low-key scrimmaging? We've got just the program for you! Here's what you need to know…
WHO CAN JOIN?
Terminal City is open to individuals of all skill levels, regardless of past experience with roller skating, roller derby, or athletics. This group is a welcoming space to learn, improve and – of course – have fun.
Are you 19 or older, have BC Medical coverage, and identify as female or gender expansive? Then come join us on the track!
Haven't skated for years (or ever)? Need to borrow gear? We've got you covered.
Ready to get started? Enter your contact info here and we'll reach out with next steps!
OUR TRAINING PROGRAMS
RollerSkating 101 – This 4 week rollerskating workshop will help get you to the next level. Whether you're interested in outdoor cruising, roller dance or rollerderby – this class will give you the fundamentals you need to achieve your rollerskating dreams. Rollerskate and protective gear is included in the cost of the class or you are welcome to bring your own. Space is limited – register for the workshop HERE
RollerDerby 101 – Want to be a kick-ass rollerderby skater? This 4 week workshop will teach you all the fundamentals of contact for rollerderby in a safe and supportive adult environment. Learn how to skate fast laps, jam through a pack & land controlled hits. Space is limited – register for the workshop HERE
Scrimmage 101 – Coming in January! For graduates of RollerDerby 101 (or equivalent skill level) – now that you're ready to jam and block, we'll continue to work on all your derby skills while learning game play, rules, strategy and having a ton of fun! More info to come!
Rolla Workout! Get fit and have some F*cking Fun! Rolla Skate Club's signature on-skates Rolla fitness class combines rollerskating skills with an awesome workout. Adaptable for all levels of rollerskating and fitness skills*, you'll leave this class feeling strong, powerful and ready to Roll Deep. Drop-in $15 / Pre-register HERE
* must be able to rollerskate forwards, turn around & stop confidently.
Complete beginner? Want to learn some skating basics before trying RollerSkating 101 or Rolla Workout? Learn more about Rolla Skate Club's Adult Intro to Rollerskating classes in Coquitlam and Vancouver.
Ready to get started? Enter your contact info here and we'll reach out with next steps!
SCHEDULE
Updated November 2018
Currently – thru Dec 16th: Sundays at Poirier Forum (See below)
10am-11am = RollerSkating 101 (pre-registered only)
11am-12pm = RollerDerby 101 (pre-registered only)
12pm-1pm = Rolla Workout (one side of the rink) + Intro to RollerSkating beginner class (other side).
WHERE TCRG SKATES
SPRING/SUMMER:
Royal City Curling Club
75 6 Ave E, New Westminster
FALL/WINTER:
Poirier Forum
618 Poirier St, Coquitlam
WHAT DO I NEED?
First and foremost: a willingness to try new things, respect for those around you, and a sense of fun!
FOR YOUR FIRST SESSION:
ID
Valid Care Card (or email pricillastone@live.ca if you don't have one)
CRDi number (roller derby insurance – we'll contact you in advance to let you know if this is needed for your level)
Be pre-registered, or bring your drop-in fee (depending on the class)
If it is your first practice, please arrive with enough time to check-in and fill out some basic paperwork. Find the person to check in with!
FOR ALL TRAINING SESSIONS:
Drop-in fee where required (CASH OR CARD ACCEPTED) plus the following gear:
Quad skates (no inlines allowed)
Helmet
Elbow pads
Wrist guards
Knee pads
Mouthguard
For participants in Rollerskating 101, Rolla Skate Club provides all the gear you need, included with your class fee! We have everything BUT the mouthguard – please bring your own!!
For other class sessions, please contact hello@rollaskateclub.com at least 24 hours in advance to request gear.
THINGS YOU MAY FIND USEFUL
Waterbottle
In the fall/winter, breathable layers, warm socks – it gets cold at Poirier!
A small snack for after
Velcro-friendly fabrics. Your super fine lululemon top might get damaged 🙁
HELPFUL LINKS AND INFO
Mix Tapes Facebook group – TCRG recreational skating (request access!)
Rolla Skate Club
Get yourself some skates and gear! Rollergirl is located at Main & 11th Ave in Vancouver (check the website for store hours)
CRDi Insurance
Minimum Skills for Derby: WFTDA training resources and
Rollerderby Testomatic minimum skills
RULES: WFTDA rules
and Rollerderby Testomatic
SHORT TRACK DERBY Rules
WATCH DERBY: wftda.tv
GENERAL INFO ON SKILLS, DRILLS, OFF-SKATES, DERBY CLOTHES, ETC.
Roller Derby Athletics
Pivotstar blog
RD Junkies